This Statement of Faith does not exhaust the extent of Adolesco Preparatory Academy's beliefs. The Bible itself, as the inspired and infallible Word of God that speaks with final authority concerning truth, morality, and the proper conduct of mankind, is the sole and final source of all that we believe. In regards to faith, doctrine, practice, policy, and discipline, the Board of Trustees is Adolesco Preparatory Academy's final interpretive authority on the Bible's meaning and application.
1. We believe the Bible to be the only infallible, inspired, authoritative, inerrant Word of God and is the basis for our sincerely held beliefs (2 Timothy 3:15; 2 Peter 1:21).
2. We believe there is only one God, eternally existent in three persons—Father, Son and Holy Spirit (Genesis 1:1; Matthew 28:19; John 10:30).
3. We believe in the deity of Christ (John 10:33); His virgin birth (Isaiah 7:14; Matthew 1:23; Luke 1:35); His sinless life (Hebrews 4:15; 7:26); His miracles (John 2:11); His vicarious and atoning death (1 Corinthians 15:3; Ephesians 1:7; Hebrews 2:9); His resurrection (John 11:25; 1 Corinthians 15:4); His ascension to the right hand of the Father (Mark 16:19); His personal return in power and glory (Acts 1:11; Revelation 19:11).
4. We believe in the absolute necessity of regeneration by the Holy Spirit for salvation because of the exceeding sinfulness of human nature; that men are justified on the single ground of faith in the blood shed of Christ; that only by God's grace and through faith we are saved (John 3:16-19; 5:24; Romans 3:23; 5:8-9; Ephesians 2:8-10; Titus 3:5).
5. We believe in the present ministry of the Holy Spirit by whose indwelling the Christian is enabled to live a godly life (Romans 8:13-14; 1 Corinthians 3:16; 6:19-20; Ephesians 4:30; 5:18).
6. We believe God wonderfully and immutable creates each person as male (man) or female (woman). These two distinct, complementary genders together reflect the image and nature of God (Genesis 1:26-27).
7. We believe that since each person is made in the image of God, every person has value and must be afforded compassion, love, kindness, respect and dignity (Mark 12:28-31; Luke 6:31).
8. We believe all human life is sacred and created by God in His image. Human life is of inestimable worth in all its dimensions. We are therefore called to defend, protect and value all human life (Psalms 139).
9. We believe in the biblical definition of marriage as the uniting of one man and one woman in a single, exclusive union for life (Genesis 2:18-25) and that God intends sexual intimacy to occur only between a man and a woman who are married to each other (1 Corinthians 6:18, 7:2-5; Hebrews 13:4). We believe that any form of sexual immorality, as Biblically defined, is sinful and offensive to God (Matt. 15:18-20; 1 Cor. 6:9-10).
10. We believe in the spiritual unity of believers in our Lord Jesus Christ (Romans 8:9; 1 Corinthians 12:12-13; Galatians 3:26-28).
11. We believe that God offers redemption and restoration to all who confess and forsake their sin, by seeking His mercy and forgiveness through Jesus Christ (Acts 3:19-21; Romans 10:9-10; 1 Corinthians 6:9-11).
12. We believe in the resurrection of both the saved and the lost; they that are saved unto the resurrection of life and they that are lost unto the resurrection of damnation (John 5:28-29).
13. We believe that all followers of Christ are under the mandate of Jesus Christ to proclaim the Gospel to the world (Matthew 28:19).
Eleven years ago, I was introduced to a University-Model® school in Sugar Land, TX called Logos Preparatory Academy. Students attended school two days each week and managed independent study on alternate days at home under the supervision of a guardian. The curriculum was academically challenging and distinctly and unapologetically Christian. Parenting alongside like-minded families in Christ and having more time for family and extracurricular activities were obvious benefits. More impressive was the demeanor of the students. When you met a Logos student you recognized immediately that they were ahead of their years. I wanted our family to have the University-Model® experience, but I felt inadequate to manage dual teacher and parent roles. I was afraid I would get it wrong.
Choosing another path, our small family of three grew to six as nine years passed. Our children attended a small, private Christian school, but we had doubts. The curriculum was not Biblically focused, and I was out of sync with our children's educational capabilities. Alex and I are committed to living with excellence, integrity and honesty and seek to raise our children accordingly, so by January 2018, we were sure it was time to explore other options. Alex and I attended a new parent information meeting at Logos Prep and were convinced this was the place for us. We were not to be disappointed. My girls and I learned together – math, science, history, English, the Bible, and of course, the fruits of the spirit. It was challenging and beautiful. Further, my children noticed the difference in the character of their peers. In the words of my oldest, "Mom, my friends love Jesus so much!" I had not understood the true meaning of a Christian school until our time at Logos Prep. We had found our home and were 100% content.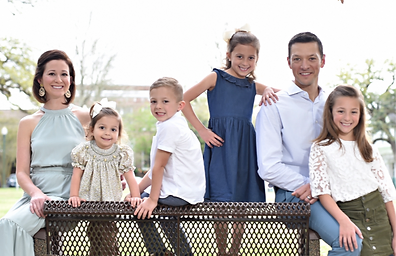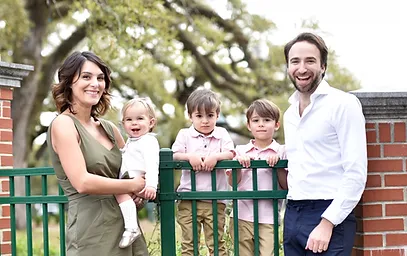 In April of last year Alex unexpectedly lost his job in the Oil and Gas Industry. He struggled with what life should look like for him and our family. Knowing he wanted to be home more and spend less time traveling to and from work, he contemplated changing careers. In a span of four months, we prayed for God's direction and calling on our life. In August, we felt the Holy Spirit prompting us to uproot our family and our life of 10 years in Houston. The direction was to Hammond, near family, to partner with Alex's father in his construction business. Meanwhile, our children were two weeks from starting school, and we were pressed to make some quick and tough decisions. Unfortunately, Louisiana did not have a University-Model® school and we weren't ready for homeschooling. By God's grace and some family support, we were able to enroll our three eldest children in a traditional private school. Our kids would be in a structured environment, away from the chaos of new changes and uncertainties while having the opportunity to make friends.
Our new adventure in Louisiana was off to a great start. We were spending great time with extended family, established ourselves at a new church, and the kids were doing well in school. But my heart was badly grieving Logos Prep and the special time I had with my children. Evenings and mornings were rushed. It was "groundhog day" every day! Redundant routines and endless to-do lists. There was not enough time in the evenings and weekends to just focus on family. I missed the Logos community of like-minded parents and, once again, I felt out of touch with my kids' education. I knew this lifestyle was not sustainable, so I started looking at other options, including homeschooling. As I did my research, the Holy Spirit pressed on my heart and one day soon after, I heard Him. "Start a school."
Fears of inadequacy crept in. "I'm a full-time mom who was once a dental hygienist who was never an educator." Surely not me! Yet, this was clearly Him calling me to start the first University-Model® School in Louisiana. Within a few days, I spoke with Tammy Mcllvoy, the Head of Logos Prep, and one of the founders. "Get a team together," she instructed. "You can't do this alone." And then God showed me Veronica Leto. Veronica was facing the same uncertainties about school for her children, the eldest of which would be starting kindergarten in 2020. She was troubled with the thought of him spending 35 hours each week solely under the influence of peers and teachers. She wanted to be the primary mentor in his life and was not ready to give up so much time with him. When I described the University-Model® to her, she said "This is exactly what I didn't know I wanted!" She talked with her husband, Michael, and shared the notion of founding a school and he simply said, "Sounds like something we want. Why not?" So, because two families had faith and obedience to God, Adolesco Preparatory Academy was born.